Dobfancier's U-litter
Born 27/1-2006
e. IPO III, VPG III, Ang. ZVA Balou vom Ferrenberg
u. SE BCH, SKH III, SPH III, IPO III, Korad, MH,
Passed Swedish policedog L-test, Security dog (personal protection),
IPO-IDC-WM 2008, 2009 & 2010 (2:nd team), qualified 2012

,




Swedish Mastership all breeds IPO 2009 & 2010,

Vice district master nordic protection work 2010,
Swedish dobermann winner IPO 2010, Vice winner 2011


Dobfancier's Ruzka

About the parents of the U-litter: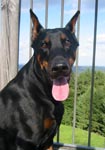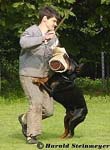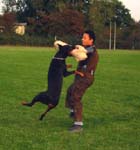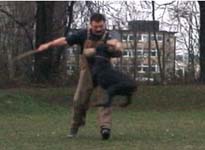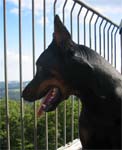 Balou is free on his eyes and have HD1 at his hip's. he is a very social and nice male. His father Aaaron vom Hagelite is behind a lot of good working-dogs in Europa. Balou has competed VPG III (Sch H III) and IPO III where he have between 88 and 98 points at the protection work. Balou has körung ZVA körklasse IIb with little sharpness, high protection drive, fighting spirit, braveness and hardness, good at gunshots. More about Balou at his homesite.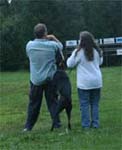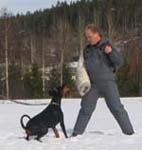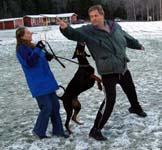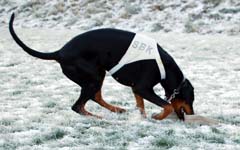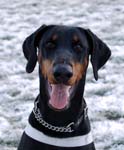 Ruzka is a young female who compete in low class protection and high class tracking. She is korad with 3, 3, 3, -1, 1, 2, 3, 1, good at gunshots, totaly 219 points.
6 of Ruzkas 7 brothers have passedthe swedish korning, with Retz at the top with 237 points. One brother is not tested yet. All exept one has competed in working and her brother Rezon was 2:nd at RM-IPO Dobermann 2005. Ruzka herself is extreamly easy to train and have high working spirit, she has a good bite and fighting spirit. Ruzka have easy to relax and can very easy change between lot of and less training. She is free on her eyes and have HD B.
Ruzka mother line is unik in Sweden. Ruzka is the 6:e generation females competing the swedish protection work and have 5 generations behind her who has got the Swedish working dog Club (SBK) breeding diploma females, for offsprings passed the korning (for the diploma a female needs 5 korad offsprings).